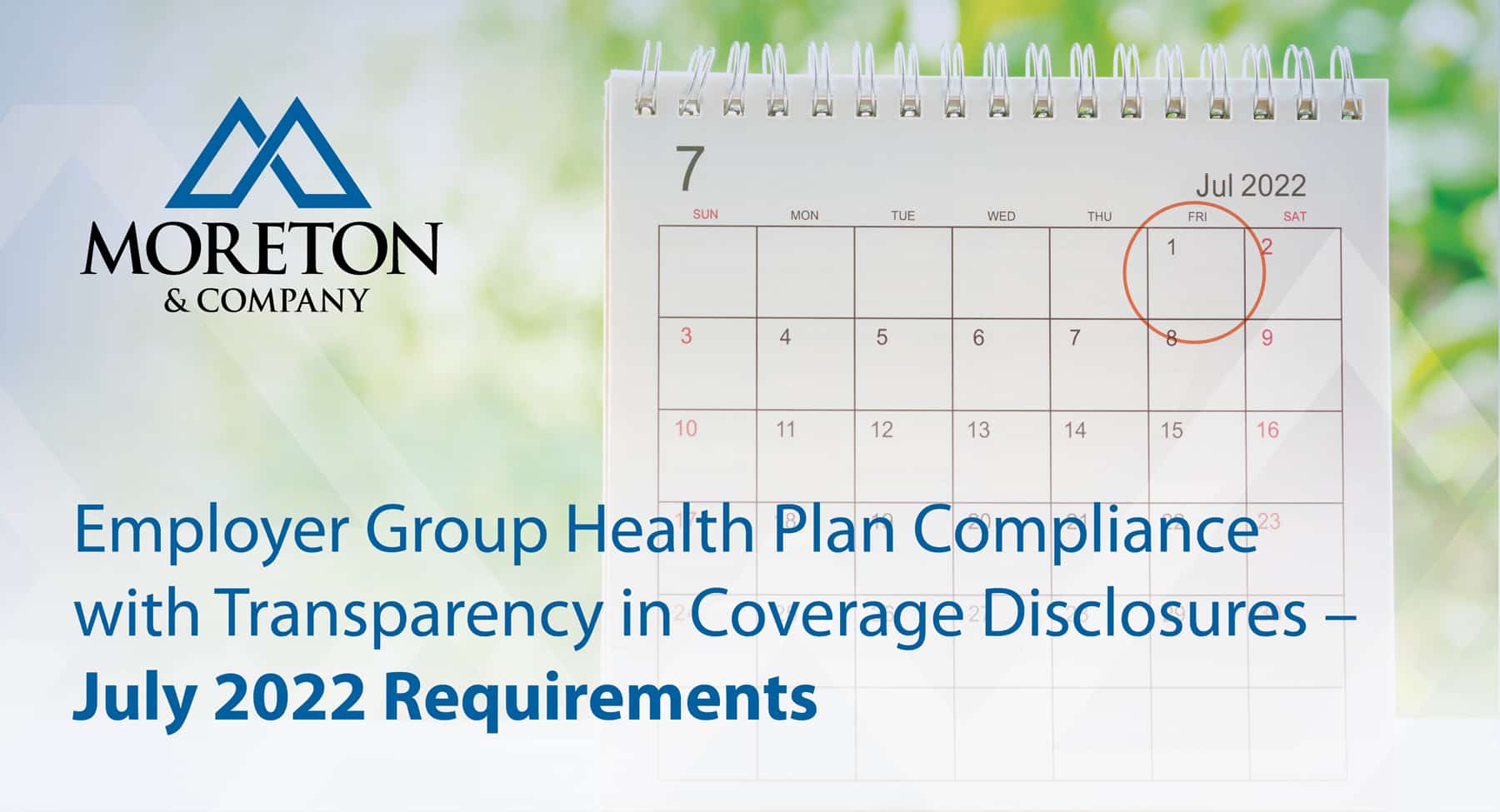 The Transparency in Coverage (TiC Regulations) and certain provisions of the Consolidated Appropriations Act of 2021 (CAA) (collectively "transparency requirements") impose certain new obligations on group health plans, health insurers and health care providers. A copy of Moreton & Company's previously provided communication on this issue is linked below. Two of these requirements become effective July 1, 2022:
Group health plans must make public a machine-readable file with in-network provider rates for covered items and services ("In-network Rate Disclosures);
Group health plans must make public a machine-readable file with out-of-network allowed amounts and billed charges for certain covered items and services ("Out-of-network Rate Disclosures).
While the above obligation is imposed on the group health plans, employers, as sponsors of group health plans, will need assistance from insurance carriers and self-funded plan TPAs to satisfy these requirements. Set forth below are Moreton & Company's suggested compliance strategies.
Fully Insured Plans
Under TiC regulations, fully insured group health plans are considered to have complied with the above requirements if the group health plan requires the health insurance issuer offering the coverage to provide the information pursuant to a written agreement. Entering into such an agreement absolves the group health plan of responsibility for the disclosures, even if the insurance carrier fails to comply with the transparency requirements. Attached is a sample agreement fully insured employers can use with their health insurance carrier to ensure compliance with the July 2022 disclosure requirements.
Self-funded Plans
The TiC regulations note that a group health plan can satisfy the transparency requirements by entering into a written agreement with the plan's TPA to make the disclosures. However, the plan may still be held responsible if the TPA fails to make the disclosures. In addition, if the TPA hosts the information on the TPA's website, the group health plan (or employer sponsoring the plan) must provide a link on its own public website to the location where the file is made publicly available. Attached is contractual language that can be inserted into the plan's TPA agreement (or used separately) under which the TPA agrees to assume responsibility for making the July 2022 transparency disclosures. As noted above, in addition to obtaining the TPA's consent to make the required disclosures, the plan sponsor should place a link to the TPA's disclosures on its website. Moreton & Company recommends that the following language be used:
[ABC Company] Health Plan Transparency in Coverage Disclosure: You can find our health plan's in-network and out-of-network rate disclosures as required under the Transparency in Coverage regulations by clicking here: www.moreton.com/wp-content/uploads/2022/01/2022_Transparency-Requirements-Deadline-Extended-FINAL.pdf
This link can be placed on the home page of your company's website (generally at the bottom of the page where other types of disclosures and links are maintained) or another public page of the company's website.